I probably should write about reality TV more often, seeing as the one post I ever wrote on the subject probably garnered more search engine referrals than anything else I've written. Barring stuff about piranhas.

New bloggers - just got started and keen on finding a subject that'll get you some hits? Piranhas. Never fails.

Well, I won't fall into the trap of reviewing every single reality show I've watched in the last six months, even if it will give me a few more hits, because frankly, reader, I'm bored of them. Granted, I watched 'Wife Swap' last night and spent the first ten minutes complaining that "this is a tired format". (You have to imagine a voice weighted with gravity and wisdom here....

"this is a tired format. Everything about is tired; tired, contrived and generic. Why haven't they axed it yet?")

... and the next fifty minutes rapt, pausing occasionally only to laugh and take cheerful glugs from my glass of wine.

And, erm, yes, I like 'No Going Back'. And anything about teenagers behaving badly or getting pregnant at the age of 12. And that one with Anna Raeburn when they divide up a messy house into a series of small prison cells for the wayward children, or build a shed in the garden where they banish the elderly grandfather (whose previous role was to just sit around shouting 'eh?') And those ones where your mum and dad come and sort out your finances. Or Alvin Hall does. And those kitchen ones with Jamie Oliver or Gordon Ramsey. Or....

Or Faking It. This one seems to be have been around so long it's practically the elder statesman of Reality TV. That and 'Would Like to Meet', which is still the genre's defining programme. I haven't much watched Faking It in recent years, but I did see a really excellent episode a couple of months ago which was - now I finally get to the point - filmed in Brighton. It's repeated tonight, and is essential - and thoroughly entertaining - viewing. C4 at ten.

So a young toff (and really, if you ever wonder if your class prejudices might need revising, you should watch this - firstly to note that there's still nothing worse than a posho, and secondly to see that there's still hope) is sent to Brighton to immerse himself in UK hip-hop culture, and 'fake it' as a graffiti artist. Well, the show is fascinating and utterly winning, not only because the starlet turns out to be a lovely lad (Jonathan doffs cap in the feudal manner) and a good sport, but because his supporting cast are just so.... lovely. Now, I'm not sure if being 'lovely' is desirable in the British rap scene, but if it is, the inhabitants of Brighton's graffiti community should be at the pinnacle of cool.

Seen around town graffing (see how I, unlike our hero, effortlessly pick up the lingo), rapping, breakdancing and poking affectionate fun wherever possible, the kids come across as caring, artistic, hardworking and (broadly) responsible. At the centre of events is Brighton's graffiti hotspot, a converted space in North Street at the centre of the North Laines, where kids line up boards and practice their art. Anyone reading this from Brighton or Hove should go and check the place out on the weekend, where it's invariably a hub of activity. The shop is owned and run by the programme's 'mentor', who I've seen around town a few times now, and always want to go and say hello to, ridiculously.

Anyway - it's well worth watching, if you can tear yourself away from the racist monkey chants over on BBC1.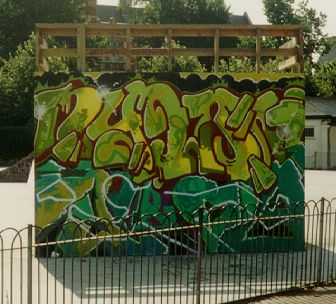 some graffiti, this morning.