I noted on Question Time last night that Harriet Harman met Andrew Rawnsley's suggestion that Tessa Jowell said that she wanted to make the UK 'the international centre for online gambling' with a great deal of scepticism. It certainly doesn't sound like the kind of thing a sane person would say. So, to double check, I just pulled out the original articles surrounding her speech at Ascot in 2006 and I can't find any quotes, although she's certainly still supportive of the ridiculous supercasinos, as the hilarious photos right and left demonstrate. The quote does have an origin, however, so for clarification, here's the only time I can find it used by a politician and it is, happily, refuted. From Hansard: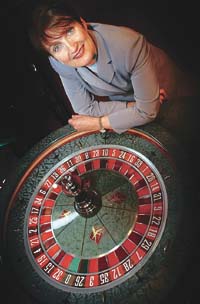 Kelvin Hopkins (Luton, North) (Lab): Following the previous question, I, too, read the press report suggesting that the Government are seeking to make Britain a centre for online gambling and I am much more concerned about that than even Front-Bench Members. Will my right hon. Friend undertake to think about reversing that policy and not make Britain a centre for online gambling?

Tessa Jowell: As I think the Daily Mail pointed out today when it made that claim—[Hon. Members: "And The Times."] And The Times. It is certainly not our intention that we become a world centre for online gambling. Do not confuse that, Mr. Speaker, with our aim to get online gambling companies to register and to come on-shore. If we do that, we will have better powers and those companies will be in a better position to act in a socially responsible way, so we will ensure that, in a rapidly increasing area of gambling, we can keep down the proportion of problem gambling. We are not marketing the UK as a centre. We are marketing the UK as having the toughest regulatory regime in the world and as being the safest place for people to gamble. It is a public interest test.